美国Andeen-Hagerling电容电桥AH2700,精密电容测量仪器的王者,是当之无愧的世界最精确电容电桥,没有之一。
该仪器有一个很重要的应用模式Deviation Mode,这一非常实用的功能很容易被大家忽略,当需要输出内部电桥不平衡信号的时候激活该模式,可用于某些特殊测量,会使问题迎刃而解。详情见如下说明:
World's Most Accurate 50Hz-20kHz Capacitance/Loss Bridge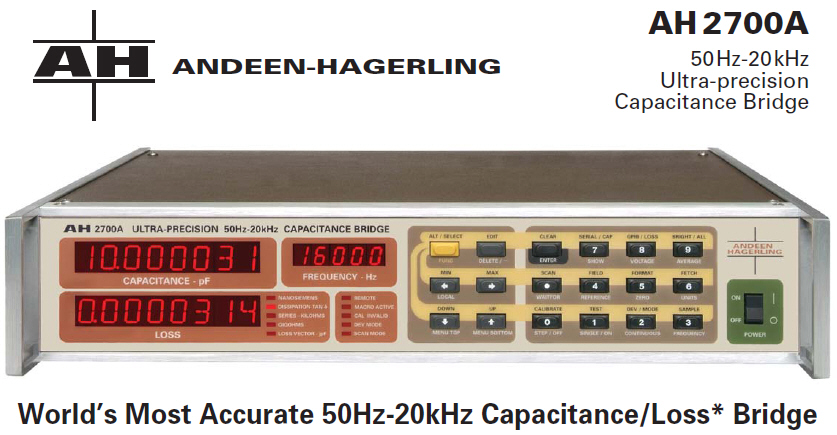 Deviation Mode and the Analog Outputs
A new mode of operation has been added to the AH2700A called Deviation Mode. In this mode, the user is given access to the processed imbalance signal from the preamp.
At the beginning of Deviation Mode (DMode) measurements, the bridge is first set as in BMode to capacitance and loss values that are close to those of the DUT. The bridge can be used to accurately measure these values or they can be manually entered. This pair of values is called the Bridge Balanced Point (BBPoint). Once DMode measurements begin, the BBPoint remains fixed for the duration of the measurements.
The imbalance signal from the preamp now represents the deviation of the capacitance and loss of the DUT from the BBPoint. This signal is digitized at a rate of 50,098 samples/s and matrix multiplied by a DSP to convert it to two real-time data streams representing the capacitance and loss deviations.
From this point the two deviation data streams each split into two branches. One branch goes to a pair of digital to analog converters (DAC's) which produce two analog voltages at the rear panel of the instrument that correspond to the capacitance and loss deviation signals. The other branch is used to produce alphanumeric results which are sent to the front panel and may also be sent to the serial and/or GPIB ports.
---
AH 2700 Datasheet Download (DEV mode is in Page 4)